When considering wood floors as your choice of floor covering, engineered hardwood flooring is by far the best. It features the beauty of real wood and the stability of engineered construction. As it is made of multi-layered cross-directional plywood or wood fillets it resists shrinkage and expansion which is much more common with solids.
Engineered has a wider range of applications as it can be nailed; floated over sound-rated foam or glued to wood or concrete. Most are warranted over in-floor heating systems as well.
We carry a wide range of products with 2-6 ml wear layers and an overall thickness of 1/2″ up to 3/4″. Surface finishes are available in wire brushed; smooth; oiled; lacquered; oxide and a wide range of colour choices. We also carry specialty products in wide and long plank and available in smooth, brushed, scraped, oiled or oxides.
ENGINEERED Hardwood Floor Products
by EVISION: • Many different collections•
by FUZION: • Many different engineered collections •
by LUSSIO: • Long • Brushed series • 4mm wear layers •
by COSWICK: • Oiled • Brushed • Live Pure Coating •
by ELGIN: • Brushed or Smooth • Budget Collections •
by UNI FLOOR: • Roman series • Wide & Long • 4mm wear layers •
by QUALIFLOOR: • Francesca Brushed series •
by WEST COAST NATURELLE: • 6 – 10 feet long • 3 – 6mm wear layers • Domestic &
by OPUS: • Classical • Shawnee • Creek • Exotics •
Feel free to call or email for more information. Due to ongoing Covid-19 concerns, please call for an appointment to view the showroom.
What is Engineered Hardwood Flooring?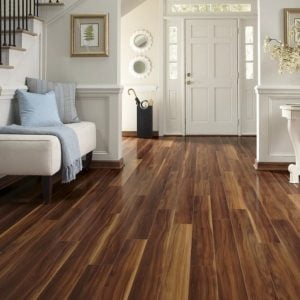 Engineered hardwood flooring is highly durable, less prone to moisture damage, and looks just like real hardwood floors. It is constructed of multiple layers of hardwood and plywood, with each layer going in a different direction; this prevents the engineered hardwood from warping and bowing in the same way that hardwood floors might in moister environments.
Compared to real hardwood floors, engineered hardwood is thinner, ranging from ⅜" to ¾" in thickness, where hardwood flooring is ½-¾" thick. However, this does not affect its durability, due to its layered construction. It's a great option for laying over radiant heating components as it transfers heat better than traditional wood flooring.
Complete with a factory finish that will last years beyond typical hardwood floors, it can be installed in virtually any room of the house including basements, bathrooms, and over concrete, as long as there are no extreme moisture issues and a protective moisture barrier is installed first. You can even lay engineered hardwood flooring over any flat, stable surface, including ceramic tile, sheet vinyl, and existing wood floors.
What styles of Engineered Hardwood Floors exist?
Engineered hardwood comes in a variety of styles including hickory, oak, maple, and attractive finishes like matte, semi-gloss, and high-glass. It also comes in a variety of surface finishes like hand-scraped for a time-worn look, distressed for a more rustic look, or wire-brushed for a unique finish design. It can even be installed by DIY-inclined individuals, as most boards come pre-finished.
How durable is Engineered Hardwood Flooring?
With good maintenance and quality products, engineered hardwood flooring can last between 10-30 years. Because the top layer of the flooring is real hardwood, they are susceptible to scratches but you can offset this by selecting engineered hardwood floors with a
scratch-resistant top-coat. Smaller scratches on engineered hardwood floors can be repaired with a wax repair kit or a cotton cloth and some rubbing alcohol.
Cost of Engineered Hardwood Floors
Engineered hardwood flooring varies in pricing, but overall, is less expensive than real hardwood floors. Depending on the quality of the top layer or "wear layer", the number of veneers in the core, and the number of finish coats, the price will vary widely. Generally, the
more layers the better, with the typical price range being between $3-$14, depending on the number of plies, thickness, and duration of the warranty.
Engineered Hardwood Floors Vs. Laminate Flooring
Engineered hardwood flooring and laminate plank flooring tend to get used interchangeably because of their similarities. While both flooring types have a wood-look design, there are key differences between the two. As discussed above, engineered hardwood flooring uses a real wood top layer whereas laminate flooring uses a photographic layer that can mimic stone, wood, or even metal.
In terms of durability, both types of flooring are making strides in terms of their water resistance and durability, each offering a scratch-resistant top layer depending on the type of flooring you choose.
When it comes to pricing, laminate flooring is one of the most affordable wood-looking flooring options going. On the other hand, while engineered wood flooring is more expensive, it does improve your home's resale value.
Both products are DIY-friendly but laminate is typically easier to install as it is designed to be a floating floor, meaning that it is not secured to the floor underneath and "floats" due to its interlocking design. Some engineered floors are also designed to be floating floors but other types are designed to be glued or nailed down, and those types of installs should be left to the professionals.
Benefits of Engineered Hardwood Flooring
Some benefits of engineered hardwood floors include:
Highly durable and long-lasting
Can be installed DIY
Easy to clean and maintain
Can be installed in moist environments
Looks and feels like real hardwood
Less expensive than real hardwood
Adds to the value of your home
If you're considering engineered wood flooring for your home or want to talk to a flooring expert, give us a call or email for more info. Due to ongoing Covid-19 concerns, please call for an appointment to view the showroom.