The new trend in Victoria buildings—if you want something unique and special for your floors—is vinyl. In fact, it is quickly replacing other looks like the more traditional hardwood and tile. At Heritage Hardwood, our vinyl floor products are 100% pure vinyl and certified as environmentally friendly. They are great for many residential and commercial floors. Vinyl is a long-lasting, versatile product that needs little maintenance or upkeep. One of the main benefits of vinyl is that it is resistant to moisture, so it's a great choice for entranceways where your family will track in water and mud or basement areas.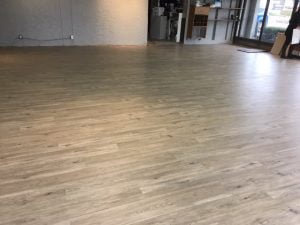 The unique aspect of vinyl is that it can simulate other types of materials for example marble, granite, and even hardwood. It can also be crafted as either a tile or panel flooring pattern. The resulting product is an impressive-looking floor that is warmer than other floor types—no more cold feet! The other benefit vinyl offers is that it can be manufactured to like other materials and it's virtually impossible to tell vinyl from the material it is trying to imitate. And perhaps the best thing is that it is only a fraction of the price.
It can be challenging figuring out and deciding what type of vinyl flooring would look best in your room. Luckily, we can guide you through the process from start to finish, ensuring whatever room you need re-floored will look and feel it's very best. We have a large selection of styles that we will install using fully certified professional installers from our team. The Heritage Hardwood team can give you a great look that will give your room a classical, a retro, or a modern feel.
We have a huge selection of styles and fully certified installers that will professionally install it for you. Our team of experts can guide you through the entire process of deciding on what design, style, and color would best fit your home. We have tons of stock and a huge selection of specialty luxury at competitive pricing. For more information, visit Harbinger Floors.