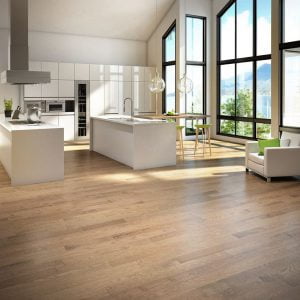 Solid hardwood is created from a solid piece of wood, typically 3/4-inch thick, and is permanently nailed to the subfloor. It is available in a variety of sizes, types, and different levels of durability. We offer solid hardwood flooring in both pre-finished and unfinished form. Feel free to choose your own stain and pre-finish if you wish or talk to our expert team to help you decide!
Benefits of Hardwood Flooring
The benefits of hardwood flooring include:
Ease of cleaning
Aesthetic warmth and timeless visual appeal
Durability for heavy foot traffic
Better acoustics
Improves air quality, minimizes allergens
Engineered Hardwood
This is a multi-layered flooring material that is best suited to underground rooms, condos, or apartments. The manufacturing process for engineered hardwood requires less energy than other flooring options, making it an environmentally-friendly choice. Although they share many of the same benefits, engineered hardwood floors differ from solid hardwood products in the following ways:
It doesn't expand in rooms where moisture levels fluctuate (kitchens and bathrooms)
Easier installation (floating floors)
Enhanced stability with buckling and rippling resistance
Can be applied over concrete in certain situations
Available in wider boards
Where to install hardwood floors
Hardwood and engineered hardwood floors can be installed in:
Kitchen
Bedroom
Living Room
Family Room
Basement
Basement Suites
If you're unsure of which flooring is best suited for your home and family's lifestyle, give us a call.