Hardwood installation floors give your home an elegance that cannot be replicated. It is a versatile material which can compliment any room in your home. When you select a hardwood, there are several aspects you need to consider. The type of wood you're using, quality of the millwork, width, and length, and staining and finishing. Depending on what you choose, these considerations will give your room a certain look.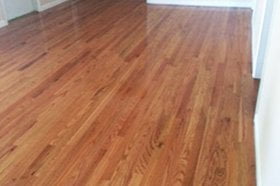 At Heritage Hardwood Flooring, we are Victoria's best hardwood installers with hundreds of products to choose from. We source only the best hardwood products from mills across the world. We then ensure every installation is done with care and nothing is overlooked.
We generally use one of three installation types: glue-down, nail-down or the floating method. Glue-down is the most common methods because it provides a solid, sturdy feel to your floor. Nail-down is another good option which is less costly and provides a quality finish. The floating method is usually only applied when the subfloor is difficult to grip to the wood.
Solid Hardwood Flooring & Installation
Quality solid hardwood is made with straight boards which have the same thickness and weight to ensure a beautiful look. The best hardwood manufacturers usually include a warranty, ensuring their workmanship. Solid hardwood flooring is great to showcase your living room, kitchen, or bathroom. With proper care and maintenance, solid hardwood can last for decades and can also be refinished after years of wear to have its original beauty restored.
Engineered Hardwood Flooring
Engineered hardwood floors, also known as composite wood floors, are genuine hardwood flooring products that can be installed where solid hardwood is not desired or suitable. Usually, these installations are used for basements, attics or over in-floor heating since they don't expand or contract as much as solid hardwood. The majority of engineered hardwood flooring is made up of plywood, although densified wood and fiber boards are also commonly used.
Hardwood Species Types
Hardwood flooring is available in many species of wood to fit the look or your home. We have everything from maple, oak, birch, walnut to more exotic mahogany. When considering a species of hardwood for flooring, it is important to consider both the aesthetic and the technical aspects of the many options that are available. We can walk you through the various species to ensure you get the type of wood that will best compliment your home.
We will measure your project space and provide a competitive quote on quality products with the installation method that is appropriate for your room. Contact us today to make an appointment.